About us
Outline
| | |
| --- | --- |
| Name | Japanese Business Alliance for Smart Energy Worldwide(JASE-W) |
| Establishment | Oct. 30th, 2008 |
| Address | 5th Floor, Igarashi Building, 2-11-5 Shibaura Minato-ku, Tokyo 108-0023, Japan    Access Map → |
| Chairman | Masakazu Tokura |
| Number of members | 42 companies, 21 organizations (as of September 2021) |
| Secretary general | Masanori Komori |
Message from the Chairman
 I'm Masakazu Tokura, chairman of KEIDANREN (Japan Business Federation).
I was recently appointed as the chairman of the Japanese Business Alliance for Smart Energy Worldwide (JASE-W) in June 2021.
 JASE-W was established in October 2008 with strong support from the business community and the government, and since then we have come together with the public and private sectors and have been actively engaged in various activities such as dispatching missions overseas and disseminating information, hosting business forums, participating in international exhibitions related to energy and the environment and conducting survey analysis to promote international cooperation through the various excellent energy-saving, renewable energy and decarbonization technologies and products developed by Japanese companies.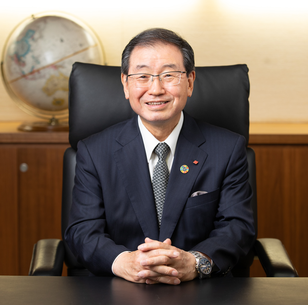 Since the Paris Agreement entered into force, countries around the world have set greenhouse gas reduction targets and have launched full-scale efforts toward carbon neutrality. In October 2020, Prime Minister of Japan declared that Japan will become carbon neutral by 2050, and in April 2021, a new mid-term target was set to cut emissions by 46% from 2013 levels by 2030. These goals are very ambitious, but we must implement the maximum possible measures, including energy saving, in order to realize them.
 Also, in order to achieve carbon neutrality on a global scale, it is essential to spread and expand the various excellent technologies for decarbonization, including energy saving and renewable energies, widely throughout the world. While global interest in the SDGs set by the United Nations is growing, Japanese companies are expected to continue to actively engage in climate change and decarbonization measures in Japan and to expand various advanced technologies and products accumulated up until now that will lead to energy saving, renewable energies and decarbonization to the rest of the world.
 In the future, JASE-W will continue to bring together the power of the industrial sector and cooperate closely with the government as a strong platform for international cooperation that works together with Japan's public and private sectors to aim for a carbon-free society. By providing Japan's advanced energy saving, renewable energy and decarbonization technologies throughout the world, we hope to contribute to expand Japan's energy and decarbonization businesses overseas and achieve carbon neutrality by solving global environmental and climate change issues.
Board members
Chairman and Vice Chairmen  
Masakazu Tokura     Chairman, Nippon Keidanren (Japan Business Federation)
Yosaku Fuji              Chairman, The Energy Conservation Center, Japan 
Hideo Ichikawa        Chairman, Committee on Energy and Resources, Nippon Keidanren
Satoshi Suzuki         Secretary General, Japan Photovoltaic Energy Association
Eiji Hashimoto         Chairman, The Japan Iron and Steel Federation
Sigenobu Shimizu     Vice Chairman, The Federation of Electric Power Companies of Japan
Chairman, Planning & Operation Committee
Chairman,Planning & Operation Committee
Nobuaki Aoyama      Executive Advisor, Green Power Investment Corporation
Yoshimichi Tsuchida     Chief Specialist, Government and External Relations Dept., Toshiba Corporation