Technolories / Products
Mirror Duct System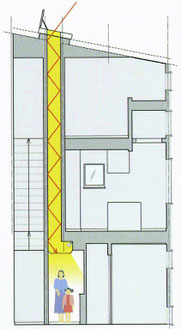 (1)Transmission of the natural light to any area
There are two ways in which the light duct can introduce natural light into the buildings. One is with the horizontal type, where light is captured at the exterior wall. The other is with the vertical type, where light is admitted on the roof and rooftop. Where the building has depth with areas difficult for light to access, the vertical type is ideal. For windowless spaces where natural light cannot access to, such as the building core of a communal housing incorporating the bathroom, WC, kitchen, etc., conditioned by a building configuration of greater depth to frontage, the vertical light-ducting system can serve to brighten with natural light.
(2)The effect of energy conservation
The Mirror-duct System, after installation, requires no energy to run or maintain it. It will continue to bring in natural light in its lifetime of service, enabling a considerable energy consumption saving. In addition to this, the CO2 discharge from the lower lighting power consumption will be reduced dramatically.
(3)Confortable and healthful light
Natural light is part of the natural world, supplying a balanced mix of nutrients that lifi-forms depend on. It also provides healthful portions of ultra-violet rays that serve to sanitize.
ZEB Ready
Nearly ZEB
Net ZEB